It is the largest Consumer Cooperative Society in the country.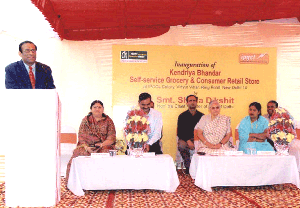 "Kendriya Bhandar Grocery/Consumer Retail Store at Shoping Complex, Rashtrapati Bhawan inagurated by Sh. Pranab Mukherjee, Hon'ble President of India on 4th June 2013 in presence of Smt Sheila Dikshit, Hon'ble Chief Minister, Delhi,
Sh. V. Narayanasamy, Hon'ble Minister of State, PMO & Personnel, Smt. Poonam Rawat, Chairperson, Kendriya Bhandar
and Sh. Jagdeesh Bhatia, Managing Director, Kendriya Bhandar."
DOPT Office Memorandum for Purchase of Stationery & Office Items from Kendriya Bhandar has been extended upto September 2014 Click here for Details
SELLING PRICES OF SELECTED GROCERY ITEMS
PROCUREMENT OF COMPUTER STATIONARY - CHANGE OF KENDRIYA BHANDAR POLICY
OFFICE / GODOWN ACCOMMODATIONS REQUIRED Click here for Details