केन्द्रीय भण्डार के संबंध में
केन्द्रीय सरकारी कर्मचारी उपभोक्ता सहकारी समिति लिमिटेड जो कि केन्द्रीय भण्डार के नाम से प्रसिद्व है का गठन 1963 में केन्द्रीय सरकारी कर्मचारी एवं जनसाधारण के हित के लिए कल्याणकारी परियोजना के रूप में हुआ था । यह कार्मिक, लोक शिकायत तथा पेंशन मंत्रालय भारत सरकार के तत्वाधान के अधीन कार्य करता है और इसका पंजीकरण दिल्ली रजिस्ट्रार सहकारी समिति के अधीन हो रखा है। सितम्बर 2000 में बहुराज्जीय उपभोक्ता सहकारी समिति के रूप में केन्द्रीय रजिस्ट्रार सहकारी समिति भारत सरकार के अधीन इसका पंजीकरण हुआ है।
केन्द्रीय भण्डार निम्नलिखि‍त व्यवसायों में है :
अध्यक्षा श्रीमती पूनम रावत और प्रबंध निदेशक श्री आर सिंह के नेतृत्व में केन्द्रीय भंडार के प्रबंधन ने केँद्रीय राज्य मंत्री (स्वतंत्र प्रभार) , राज्य मंत्री पीएमओ, कार्मिक, लोक शिकायत, पेंशन, परमाणु ऊर्जा और अंतरिक्ष, डॉ जितेंद्र सिंह के साथ 4 नवंबर 2016 को एक बैठक की और संस्था की हाल की बाजार की उपलब्धियों और मुनाफे के बारे में अद्यतन जानकारी प्रदान की और साथ ही अपने कुछ लंबित मुद्दों को भी उनके सामने रखा ।
---
LATEST NEWS
17
FEBRUARY 2017
Hon'ble MoS(PP), Dr. Jitendra Singh receiving the divident cheque from Smt. Poonam Rawat, Chairperson alongwith Board Members of kendriya Bhandar, in presence of Sr. Officers of DoPT and Kendriya Bhandar at New Delhi.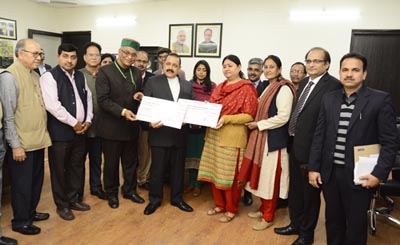 25
SEPTEMBER 2016
53rd Annual General Body Meeting held on 25.09.2016: Mrs. Poonam Rawat, Chairperson informed that despite discontinuation of DOPT OM, which adversely affected the Stationery Sales, Kendriya Bhandar achieved highest ever turnover of Rs. 1020 Crores during the Financial Year 2015-16 with Net Profit Rs. 6.61 Crores.