Welcome to Our Center
The Central Govt. Employees Consumer Cooperative Society Ltd. popularly known as Kendriya Bhandar was set up in 1963 as a welfare project for the benefit of Central Govt. employees and public at large. It is functioning under aegis of Ministry of Personnel, Public Grievances & Pensions, Govt. of India and was registered with Delhi Registrar of Cooperative Societies. Subsequently, it was registered with Central Registrar of Cooperative Societies, Govt. of India as a Multi State Consumer Cooperative Society in September, 2000.
Kendriya Bhandar is into following business activities:-
Kendriya Bhandar is the largest Consumer Cooperative Society in the country.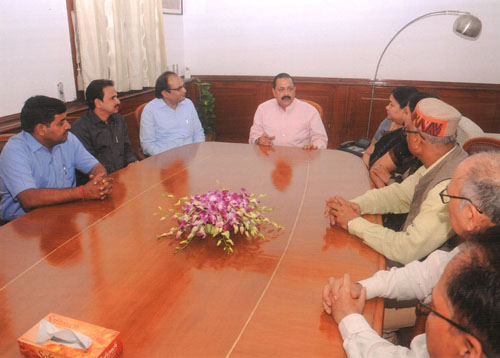 "Management of Kendriya Bhandar led by its Chairperson Smt. Poonam Rawat and Managing Director Shri R.K. Singh held a meeting on 4th November 2016 with Union Minister of State (Independent Charge) for Development of North Eastern Region (DoNER), MoS PMO, Personnel, Public Grievances, Pensions, Atomic Energy and Space, Dr Jitendra Singh and provided an update about their recent achievemnts and profits in the market and also put across some of their pending issues."
17th February 2017 :
---
LATEST NEWS
17
FEBRUARY 2017
Hon'ble MoS(PP), Dr. Jitendra Singh receiving the divident cheque from Smt. Poonam Rawat, Chairperson alongwith Board Members of kendriya Bhandar, in presence of Sr. Officers of DoPT and Kendriya Bhandar at New Delhi.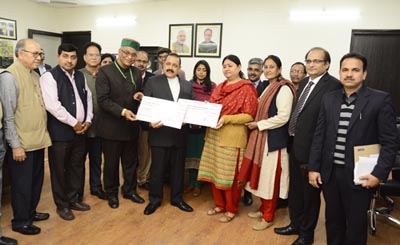 25
SEPTEMBER 2016
53rd Annual General Body Meeting held on 25.09.2016: Mrs. Poonam Rawat, Chairperson informed that despite discontinuation of DOPT OM, which adversely affected the Stationery Sales, Kendriya Bhandar achieved highest ever turnover of Rs. 1020 Crores during the Financial Year 2015-16 with Net Profit Rs. 6.61 Crores.