HOME
>
Business Activities
Business Activities
Stationery Products and Office Equipment
Kendriya Bhandar has been supplying stationery and office equipments including furniture, computers, photocopiers , fax machines, furniture etc. to Central Govt. Ministries/ Deptts., public sector undertakings, autonomous bodies etc. from its Stationery Office at R K Puram, New Delhi and various Regional offices since 1981.
Over the period, Kendriya Bhandar has developed expertise in supply of the office stationery requirement to Central Govt. organizations at competitive prices. The selling price prevailing in Kendriya Bhandar is taken as benchmark for procurement of items by Government Departments.
As a unique service Kendriya Bhandar has developed a system of extending credit facility to its regular customers by opening of credit accounts under where they can procure items simply by raising an indent which ensures meeting of their requirement whenever demand arises.
In purchasing of items from Kendriya Bhandar, the Govt. departments achieve savings in terms of invitation, scrutiny and evaluation of tenders, collection of material from different sources etc. without any time lag between demand and supply.
A large variety of Stationery items are readily available at our Stationery counters at:
Kendriya Bhandar
East Block -X
R K Puram, New Delhi-66
Phone No. 26713782, 26713783
Stationery Counter - I
(Paper and Paper Products)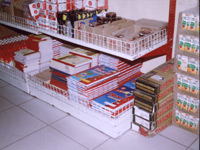 Paper : All kinds of duplicating, typing, photocopier paper, printing paper, rice paper, bond paper. Paper Rolls: All kinds of fax rolls, ammonia paper etc.
Carbon & Stencils.
Registers and Forms : All types of ruled registers in different sizes, dispatch and diary registers, peon books, dak pad etc. All kinds of Government forms, specially printed forms required in bulk.
Computer Stationery: Computer continuous paper
Stationery Counter - II
(Desktop Stationery, Liveries)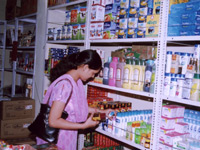 Pens, pencils, pen stands, pencil sharpners, erasers, markers & sign pens, from reputed brands like Luxor, Rotomac, Reynold etc.
Luggage : All types of briefcases of reputed brands like VIP, Aristocrat etc.
Consumables : Floppies, printer ribbons, printer consumables, type writing ribbons etc.
Electrical Items : All kinds of bulbs, fluorescent tubes, tube light fittings, ceiling & table fans, desert coolers, exhaust fans, switches, starters, holders, plugs, sockets, room heaters, heat convectors etc.
Liveries : Winter and summer uniform, towels
Plastic Items : Plastic items such as buckets, jug, mug, tray, wastepaper basket, pin cushion, gum, paper cutter, punching machine, table glass, tags, thread ball, staplers machines, scissor, torches, rubber band, sutli, hassion cloth, desk knife, cello tape, straight pins, gem clips, vinyl clips, chalk, stamp ink, stamp pad, correcting fluid, marking ink, stencil pen, duplicating ink, batteries and cells.
Crockery : Glasses, crockery in bone china, flask, jugs etc.
Stationery Counter - III 
(Office automation products) 
(Not in stock, supplies against specific requirement)
Office Automation Products : Paper shredder machines, photocopiers, EPABX, key telephone system, fax machines, desert coolers, water purifiers, air conditioners etc.
Computers : HCL, HP, WIPRO, IBM, COMPAQ and other leading brand of computers along with peripherals and accessories. Printers, softwares etc.
Stationery Counter - IV
(Cleaning items)
Cleaning material : Phenyle, various kinds of brushes, brooms, dusters and floor dusters, acid bottles, naphthalene balls, sanitizers, air purifiers, room freshners, washing soap, toilet soap, liquid soap, finit, baygon spray, odonil, candles, spray pump etc.
Stationery Counter - V ( Medical)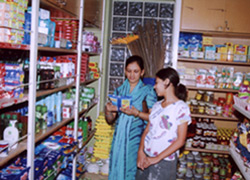 All kinds of medicines and surgical items for institutional and retail customers are supplied from Medical Division located at 23, Mahadev Road, New Delhi.
Stationery Counter - VI
(Office Furniture) 
(Not in stock, supplies against specific requirement)
Steel furniture : Almirah, officer table, chairs, executive chairs, filing cabinets and all types of steel furniture.
Computer furniture : Computer table, printer table and different kinds of chairs, specially designed for computers.
Wooden furniture : all types of wooden furniture like sofas, table chair etc.
Tyres tubes, batteries, shoes